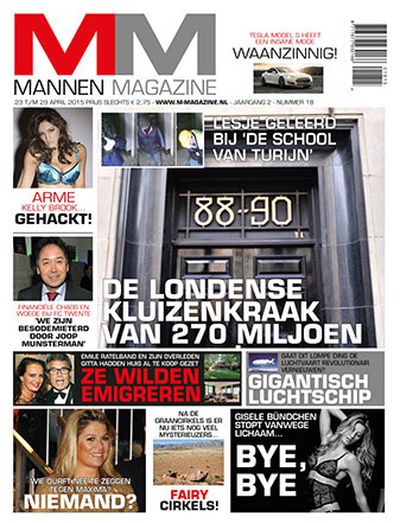 Over Mannen Magazine
Mannen Magazine is een actueel weekblad voor de man van nu. Boordevol leuke weetjes en feitjes. Mannen lezen in Mannen Magazine heet van de naald alles over misdaad, films, games, showbizz, gadgets en nog veel meer interessants dat er in hun leven toe doet.
Klantenservice Mannen Magazine
Voor vragen en opmerkingen over lopende abonnementen kun je het best direct contact opnemen met de uitgever van Mannen Magazine. Dit betreft bijvoorbeeld het stopzetten of opzeggen van een abonnement, betalingen (cq. incasso's) en het doorgeven van verhuizingen en bezorgklachten.
De contactgegevens voor Mannen Magazine:
Teampress
070-3082050 op werkdagen tussen 09:00 en 15:00
Mocht jouw vraag of opmerking een bestelling via Abonnement.nl betreffen, aarzel dan niet om contact met ons op te nemen.
Mannen Magazine is een actueel weekblad voor de man van nu. Bekijk hieronder de actuele aanbiedingen. En kies jouw Mannen Magazine abonnement.
Mannen Magazine cadeauabonnementen
Cadeauabonnementen stoppen altijd automatisch.
Dus geef nu een abonnement op Mannen Magazine cadeau. Voor een verjaardag of een andere feestelijke gelegenheid. Of zomaar, omdat iemand het verdient of goed kan gebruiken.
---
Er zijn nog geen reviews geplaatst.